Governor Ayo Fayose of Ekiti State has described the victory of Senate President, Bukola Saraki, at the Code of Conduct Tribunal was a victory of Nigerians over tyranny.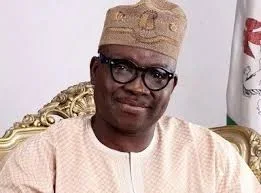 In a statement issued by his Special Assistant on Public Communications and New Media, Lere Olayinka, Fayose said, "I said it categorically that the Code of Conduct Tribunal will absolve Senate President Bukola Saraki and today, the prediction came to pass."
"I have maintained that the government of President Buhari is not fighting any corruption. Rather, what is being done is hiding under anti-corruption fight to persecute, humiliate, harass and malign perceived political enemies.
"They go about trying their perceived political foes in the media, with the aim of destroying their names when they do not have any evidence that can sustain court trial and it is for this reason that they have been losing corruption cases.
"Look at all the noise they made when they started Senator Saraki's case, it was as if he will be sent to jail the following week. But when it was time for them to prove their allegations, they could not.
"Even the case of the former National Security Adviser, Col. Sambo Dasuki (retd), that they said stole $2.1bn arms money and that destructive weapon capable of disrupting the peace of any city in Nigeria were found in his possession, why are they the ones seeking for secret trial while Dasuki that they accused is insisting on open trial?
"Up till today, they have not brought any evidence against Dasuki. They have not even been able to commence his trial. Instead, they have continually disobeyed court orders that he should be released from detention."